Hi All!
Tonight I begin a new journey that will find me in Jamestown, North Dakota for the next six weeks… plus a couple of days.  Starting tomorrow, I will be teaching art to Elementary School Students as part of an "Artist In Residence" program.  I had three days of training, orientation and prep work last week, and I officially start the new gig tomorrow at 8:30 a.m.  I'm excited!
Actually, to say that I am merely excited would be a bit of an understatement.  I have felt a wide range of emotions since accepting this position; from disbelief to anticipation to terror to extreme confidence, back to terror and then to some level of confidence again.  It's about like any other exciting new thing that I've ever done… right now I don't think I can do it and I have no idea 'how' to, but I'm also pretty sure I'll figure it out in about 8 hours from now.
I have wanted to do a 'teaching residency' since I learned this program existed, and I finally got on the roster for North Dakota last year.  If I can get my 'act' in gear before the March 1 deadline, I plan to apply to be on South Dakota's official roster as well.
If you have no idea what I'm talking about right now, and are not sure just what a 'teaching artist' is or what one does….  basically I will be going into Elementary, Middle and High Schools for a week or so at a time to teach art to the students.  This isn't an official 'teaching' position, and it isn't like substitute teaching either.  The classroom teacher will remain with the students during the hour or so that I am in the classroom.  I am not a teacher; I am sharing what I have learned about art as a person who makes their living making art.  I am an Artist, and now I get to teach others what I've learned.
Sometimes I will be teaching all grade levels; in other schools it will just be a few concentrated groups at a time.  During my residency in Jamestown, I will be teaching K-5th grade at one of their elementary schools, and at six weeks, this residency is longer than most.  As a 'teaching artist', I'll also occasionally hold multi-age or adult level classes in a community.  I plan to teach 2-3 adult classes during my residency here in Jamestown, and this summer I will be teaching a Plein Air painting class at the Lawrence Welk Historic Site in Strausburg, ND.
I want to give a special shout out to my love, Sheldon..  He spent a large amount of time helping me practice my elementary school projects last weekend, and I suspect I may call on him again in the coming weeks for trial runs.  Thanks Sheldon, for being such a good sport about it all!  I think he had fun…. by the end of the weekend he was asking me if there were any more art projects that we could do!
There are some other exciting things happening that I plan to share with you soon, but I don't want to cram all my news into one blog post.  I just wanted to keep you up to date on what's going on in my world.
---
---
Speaking of what I've been up to……. check out this awesome commission that I finished up last weekend!  This prize steer is on his way to Minneapolis.  Hopefully he made it safely to his new home by now.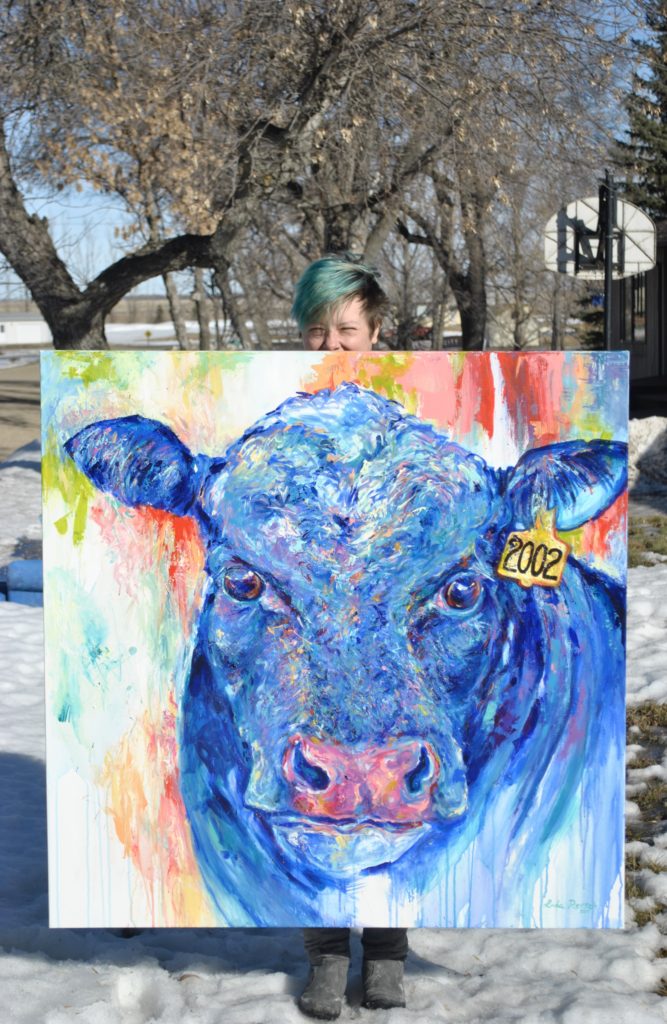 This piece measured 4 feet by 4 feet.  I don't usually work that large, so it was a nice change from the 12″x12″ inch pieces I usually do.  I started with really watered down acrylics to get those background washes like I usually do, and then I added large fields of bright color with a palette knife.  I finished it off with calculated spattering, and maybe a few finer brush details here and there.