Hey All,
It's the first Saturday of the month, so you know what that means, right? …… it's Challenge Day!!!
I've been looking forward to this first Saturday because it is the first Saturday that I'll spend (of three) in Jamestown, North Dakota.  I am staying in a cute little downtown apartment, and I'm not kidding when I say this is a place straight out of my dreams.
As a little girl I admired the old brick buildings that lined nearly every Main Street in nearly every city and town.  I loved the shapes and the colors of the facades on ancient two and three story brick buildings that once housed a mom'n'pop store on ground level, with living quarters for the family and extra apartments above.  I dreamed that one day I would live in one of these such places, in the midst of a mish-mash of cultures, surrounded by rich history, and within walking distance of the happenin', 'cool' part of town.
So it is truly a dream come true that I am stationed here in downtown Jamestown, within walking distance of great coffee, great food, some bars (that I probably won't go to); with the Art's Center right below me and a relatively new 'Art Park' that is still a work in progress, directly across the road.
What else is out there?  I've only walked within a few blocks of here… but I love my view from the bedroom in my apartment, and I knew I wanted to paint it for #MomentCatchers today!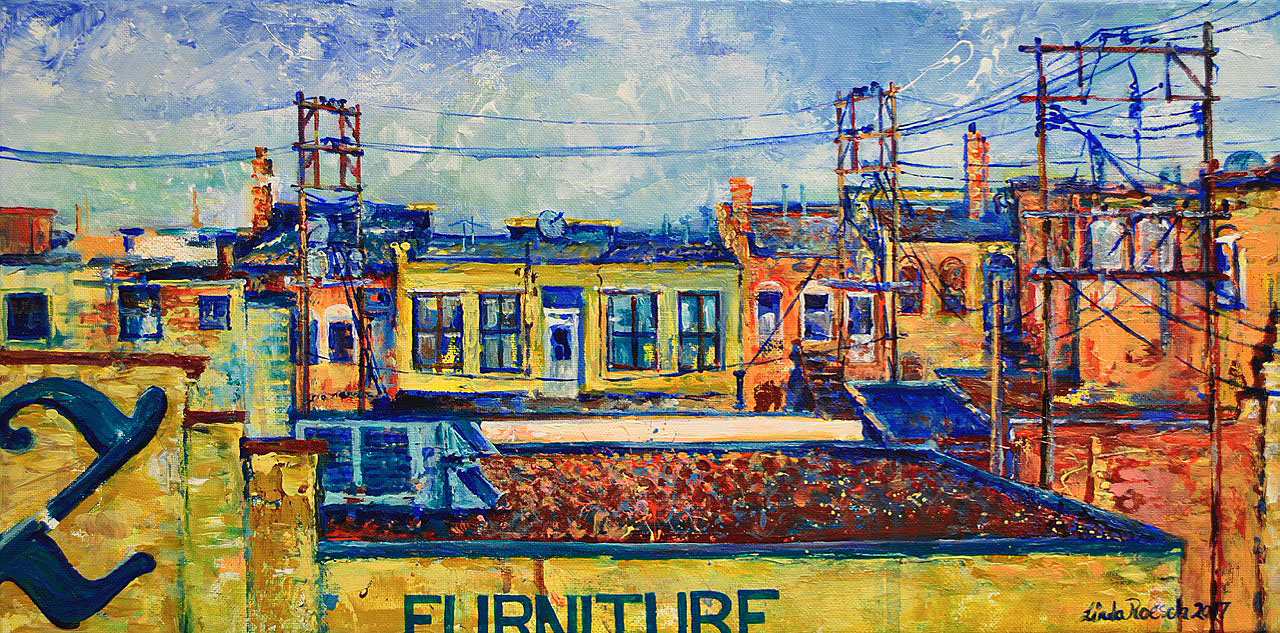 Little towns used to have tall buildings
  Back when I was small.
  Businesses at the base and windows above,
  With secret tunnels running between the halls…
Some were torn down, and others burned down,
  And some just fell down over time.
  And in their place, a tin, square shape,
  Totally void of interesting design…
Our hometown skylines seem so bare.
  With so many places no longer there….
So I'll happily acknowledge these founding foundations
  On the rare occasions where they still stand.
  And gaze in awe at the structural beauty
  Of these proud community elders, now so rare in our land.