We just wrapped up my favorite week of the year….. Clean Up Week in Fargo! 
Here is a painting I did of our Junkin Spoils 2017 – the Organ and the Keyboard.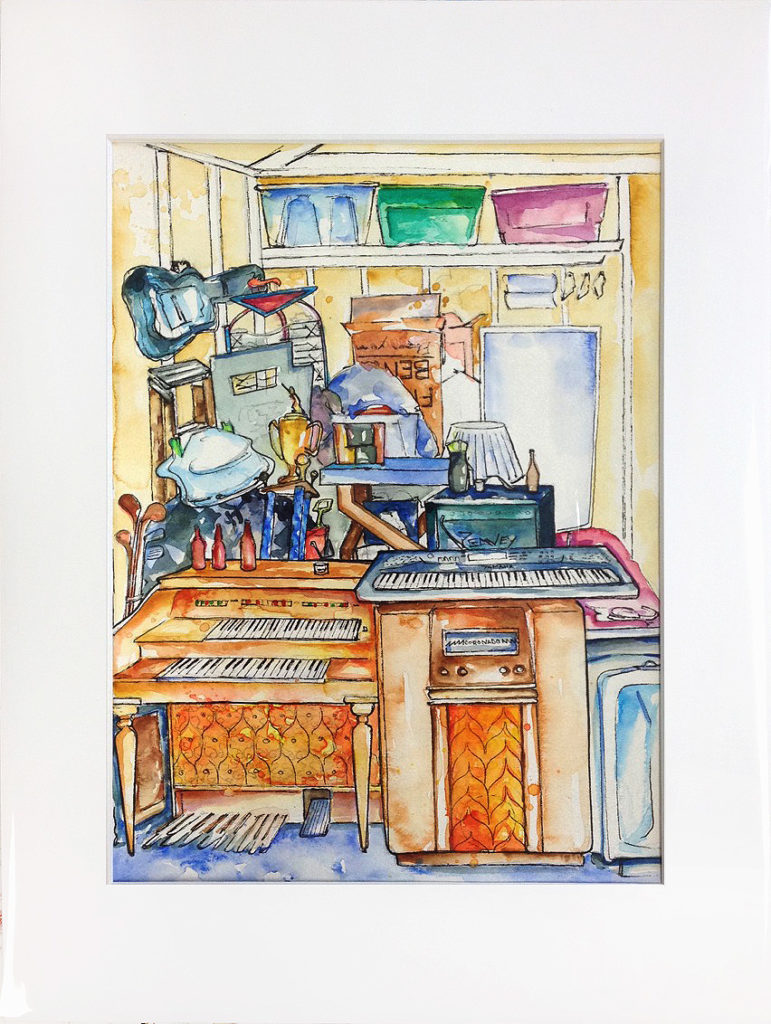 Every year, the first full week in May, my Sheldon and I go junkin' with our dumb dog Doberman during the annual Clean Up Week.  For three years in a row, we've combed the streets of Fargo for items that I want to find for Jeffrey's home or odds and ends for my art business… and of course, for our annual yard sale.  Junk week for me is a chance to score free things like shelving, lawnmowers, sofas, dish sets, art canvases and framing material, rustic wood for my brother's projects, and then a barrage of treasures that are resaleable.  A week of combing through the best trash in Fargo leads to a carefully curated yard sale that gets bigger and better every year for Sheldon and me.  But Junkin' 2017 will most undoubtedly be remembered as the year we found the the keyboard and the organ… our 'Wurlitzer Prize.'
The Funmaker Deluxe is quite aptly named, and it's probably a good thing I didn't see it's full name when we found it out on the curb or I might have called it as 'junk' and leaned towards not picking it up. We'd just driven past another organ on the block before, but some asshole had already cut the power cord on that one for it's copper.  #lame.  This Wurlitzer seemed like it could be a good grab, sitting upright by itself and with it's power cord in tact.
"This thing probably works" Sheldon commented, as we mulled over the fate of the organ, debating whether or not we wanted to load it and whether or not we thought we could sell it at our yard sale. I couldn't believe that he was willing to load this thing up and take it home, but it's a musical instrument so of course I thought we should have one.  Why not take it home?
I also thought of my little cousin, Evan. He recently took up piano and very quickly he's become quite good. He wants a pipe organ, which the Wurlitzer isn't, but it is a Funmaker Deluxe and I suspected he'd have fun with it just the same. I thought if we couldn't sell it at the yard sale, I would be able to convince someone in Evan's family to take it off our hands.
, but not after driving by at least three more organs sitting out as trash on the curb; two were upside down under garbage and one was still upright and ready to claim.  We dollied the organ into the garage and plugged it in; it fired up and all keys and buttons appeared to be operational, but right away we noticed a malfunction – a continuous drone, a low hum that was independent of any notes that we would play and it was neverending, or so it seemed.
At first, the drone seemed to be in the key of A and it kind of 'worked' with certain songs. The organ was kind of fun but it had limitations, and Sheldon and I began to have finder's remorse.  A cursory Google search indicates that the organ is worth approximately zero dollars. Funmaker Deluxe doesn't exactly sound like a high end item, and the internet pretty much confirmed that we'd picked up a fancy, cheaply made toy. "They are a dime a dozen'" one forum said, "and if you have one, chances are you picked it up on a curb during heavy trash week." Yep, bingo.
I broke this news to Sheldon, who had taken to playing the organ during our afternoon down time when junkin' sort of comes to a lull.  He took the news well, and save for a few times throughout the week when he'd curse our decision to rescue the organ, he mostly liked having it around.  Meanwhile, I was thanking the junkin' gods for the Yamaha keyboard that we'd also found.
---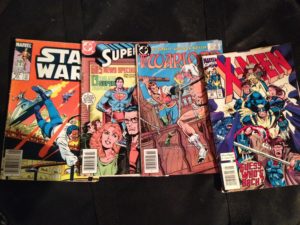 The keyboard actually came to us before the Wurlitzer.  We found the keyboard on Saturday and the organ on Sunday; our first and second days of Junkin' 2017.  On Friday night as Sheldon and I lay down to sleep, I tried to hone in to the junkin' gods, stating aloud my list of items that I hoped to harvest for the coming year.  A dishwasher: Check (found it on Tuesday.)  A bike for my home in Roscoe: Maaybe check (I picked up a few, we'll see if they run). Toys and games, stuffed animals and kids clothes for the yard sale along with a battery operated kids ATV that still runs: Check, check and check.. We found more of that stuff than ever before, even though overall the spoils of junkin' were down this year.
"Toy trains" I said to the ether. We didn't find a train set itself, but we did find an amazing paper mache mountain scene complete with tunnels that was built for a toy train to roll through. I wanted to take it home, but without an immediate use for such an item, these are the things that I sometimes have to leave behind.  "Jewelry" was another item that I asked for, but I forgot to specify I wanted gold, and so at the end of the week when I was cleaning out purses the only 'jewelry' that I found was plastic and fit the wrist of a child.  I also found some old comics in a stack of porno mags, but they turned out to only be worth about five dollars on ebay.
I also told the gods that I wanted to find a keyboard; a musical keyboard, not one for my computer. I wanted this the most of any of the requests, though I didn't specify that out loud.
Junkin' 2017 actually started for me during Clean Up Week the year before. Early on in that week we drove by this old piano that had beautiful ornate patterns carved into the wood. We stopped to play it and admire it, and to determine that it was too heavy to load into the truck, that we didn't have a trailer, and that we didn't know what we'd do with this piano even if we did. We drove away but kept passing by the piano accidently when driving around. I put a picture of it up on craigslist and facebook, pleading for someone to save this beautiful instrument. We drove by it the next day too, right before the clean up crew loaded it into a truck and drove it to the landfill. That still stings. I still feel sad that we couldn't save the piano, but as Sheldon likes to point out….. 'I can't save the world.'
Sheldon didn't think that we would find most of the things that I was calling out for this year, and obviously a lot of them were long shots (like how many people throw out a functioning keyboard?).  I knew we wouldn't see another piano, but I also knew there would be something like it; there is always going to be some amazing something that I feel called to save.  It might not be another piano, but there would be something.
We planned for what we would do in the event that we come across 'the piano' this year.  Maybe we could be merely a conduit for the piano… we could foster it to safety until it finds a new home. Or maybe they could  be used as lawn decorations…. like little free libraries that dot our towns.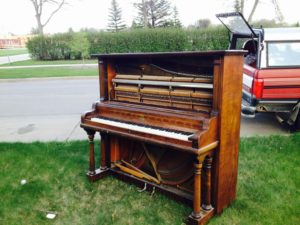 Last year when we stopped at the piano I didn't know how to play it, and that bothered me too. I used to play music, piano specifically, but sometime after high school I put music aside.  Then I picked music up again in the form of bass guitar so I could jam with Sheldon…. but I've somehow quit playing that too.  I have music in me, I can feel it, and even when I stop playing music for awhile it just doesn't leave me alone.  I hear it in my head all the time and I want to write songs.
Sheldon is musically inclined. He's a pretty incredible guitar player in a great band, and last year he was able to play that piano that we found on the street seemingly with relative ease. I plunked a few keys that day but I felt embarrassed that I wouldn't know how to make a song, so I didn't try playing it very long at all. That sort of bothered me over the summer, and I wanted to be able to play a song in the event that we found a piano again this year.  #goals
I have a keyboard already; it's a Casio and I bought it at a store about 6 years ago during a Thanksgiving sale.  I have it set up in the basement and Bitty Cow has knocked it off of it's stand a few times, so the lights are messed up everything works.  I left my power cord at a house I no longer live at in California when I moved back to South Dakota in 2014, so my keyboard sat untouched for the last 3 years.  For some reason I put off ordering the replacement cord until January of this year.
When I moved to Jamestown for my artist residency in February, I took my keyboard (and new power cable) with me. I decided that I was going to teach myself how to play piano again, maybe write my songs in my spare time and record an album eventually.  That's on my list of things to do before I die.
Not surprisingly, I discovered that I pretty much sucked at piano, just like I sucked at guitar and bass guitar and any other instrument that I try. Still, my brain wants to play music whether I am good at it or not, so I made a deal with myself that we will practice for one year, and if at the end of one year piano doesn't come back to me, I will put it away and focus on something else. Except, I won't actually put it away because music follows me wherever I go; it won't leave me alone.
Three weeks before Clean Up Week I wondered if I should take a piano lesson. I wasn't figuring anything out on my own. YouTube can be a great teacher though, and after a few tutorials I was starting to feel like maybe piano would come back to me again. It felt possible.
The day before Clean Up Week, I still couldn't play a familiar tune, but I'd learned my major chords and could make up classical musings and things that sounded like church hymns on the fly. That wasn't exactly the goal that I'd been shooting for, but I'd do better than last year. Now we just needed to find a piano by the curb again……….
I guess I understood that odds were probably not in my favor for the stars aligning in this way, but that's never stopped me from believing in a beautiful possibility before.  As I left my Jamestown apartment on the Friday before Clean Up Week, I remember feeling like the only down side to this 'best week of the year' is that I wouldn't get to practice my keyboard for the entire week that I was gone.   It sure would be nice to have one here in Fargo I was thinking to myself when I called out 'keyboard' to the junkin gods.
I didn't have to wait very long to get my wish. The Yamaha keyboard was one of the first things that we found the very next day.  It was in the nice part of town down by the river, picked from the type of pile that Sheldon appreciates: there were no broken shitters, no sacks of trash…. only a gerbil cage with a keyboard placed strategically on top for us to find.   Sheldon noticed the power cord beside it or I would have left that behind (I have a thing with power cords).  The keyboard was pretty dusty but other than that it looked pristine.
Sheldon seemed surprised that it worked; I was fully expecting that it would turn on and be playable.  The Yamaha is a bit smaller than my keyboard at home, but I think it has a better sound.  Maybe I just liked it more because we found it for free, but I preferred this keyboard to the one at home.  And I was over the moon knowing that I'd be able to sneak in a bit of practice while Sheldon was at work or in the shower.  I wasn't as shy about practicing in front of Sheldon anymore.  He was encouraging, and he said that some of my songs sounded 'good.' Indeed, I had seemingly improved overnight from when I last played at my apartment.
We found the Wurlitzer one day after my keyboard, so now Sheldon also had a toy. For the first day we each played keyboard and organ interchangeably, but by Tuesday I was clearly gravitating towards the keyboard, and Sheldon was able to control the organ in ways that were incomprehensible to me. During any down time you could find me perched on a dog food bucket in the living room hunched over my keyboard like a little Schroeder from the Peanuts cartoon, meanwhile Sheldon jammed in his own style on the organ (still on the dolly) in the garage.
By Wednesday we decided to keep the organ 'right where it was' for awhile and by Thursday we wondered if we could play our instruments together, so we moved my keyboard to the garage. There seemed to be an organic chemistry happening when our two instruments combined, and we were both able to explore music in a way that neither of us had before.
On Friday and Saturday night, we jammed.  Our freestyling was resulting in music that actually sounded…. good.  On Friday we brought a small practice amp to the garage for my keyboard, and by Saturday we were experimenting with pedal configurations for my volume control.  Sheldon wondered what would happen if he threw a harmonica into the mix, and I decided to try out my new GoPro (knockoff) camera and recorded our show.
Two monkeys monkeying around in the garage with our instruments that we found dumpster diving, that's what we are. It seems somehow fitting. We couldn't have planned it this way, though in some ways I wonder if I did help to plan it this way by fantasizing about another shot at piano for the 300 days before.   Clean Up Week 2017 is the year of the organ, and the keyboard, and jamming with Sheldon again…. something I've missed….. but none of this would have happened if I hadn't spent some of 2016 remembering the piano, and preparing for maybe getting a chance to play one again at Clean Up Week this year.
On Friday night after our jam session Sheldon wondered aloud what the organ and keyboard must be thinking right about now. Both of these instruments had been sitting in separate homes in very different neighborhoods, not being used for years.  They were put out to trash and undoubtedly these instruments thought they were staring down death at the landfill when suddenly here we came to rescue them. We selected both instruments, took them home, dusted them off and cleaned them up and now suddenly they were making music again….. and likely a new kind of music in ways that they'd never been played before.
I am thankful to the junkin' gods for providing the keyboard and the organ, and for giving us the good sense to pick these items off the curb.   We have since had more fun than we could have imagined one week ago, and we're only getting started.  Maybe we'll finally make some songs together, or record my album.  Maybe we can take this show on the road, performing at a festival somewhere or on Venice Beach.  Maybe not; maybe we'll just keep jamming sometimes in the garage.  These are moments that we can't plan for, but sometimes we can prepare for them just the same.
---
I told you I took some video footage of a couple of Garage Monkeys playing found instruments.  Well anyway…. here we are with one song.  It wasn't our best song, but it turned out pretty cool for just freestyling.  Please be kind, but most of all, enjoy……