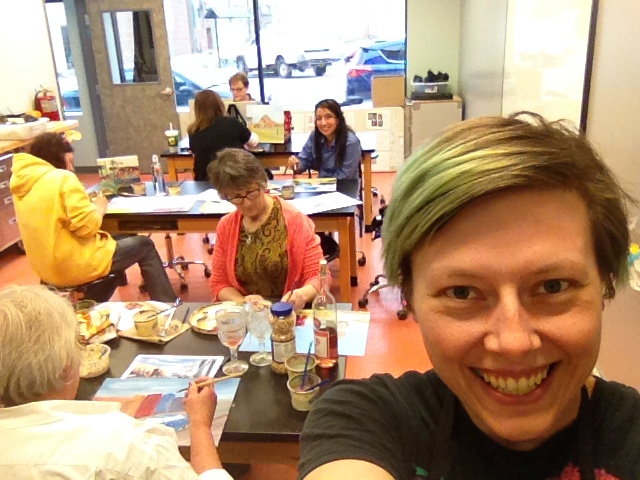 Well friends, tonight is my last night in Jamestown.  My residency at St. John's Academy wraps up tomorrow, and I am headed back to South Dakota, just in time to drive my brother to his doctor appointment in Sioux Falls on Tuesday.
Even though I am packing my things, I don't think it has sunk in yet that I am really leaving.  I have loved every minute of being in my little apartment in the happenin' part of town.  I will miss the view especially, the proximity to fresh food at the market within a block from my home, and of course I'll miss hearing the voices of the people who are outside at night, moving from bar to bar.  It has been a joy to be immersed in this city, and I've felt like I've been in the heart of the city, even though many would call this a small town.
The teaching residencies went great, and perhaps part of the reason that I don't feel like I'm leaving is because I have a hunch that I'm only taking a break for awhile.  I am signed up to return in July for a one week summer camp, and there are talks that I'll be back in the fall for at least one more school.
The time has flown by, and I think the reason for that is that a lot of exta sh*t went down outside of the residency during my time here.
I caught a cold during my first hour of teaching and stayed under the weather for most of that week.  I taught through the pain……..
During week 2, my tooth abscessed and in week 3 I had to go to Fargo for a root canal.  I still missed zero days of work; just spent a lot of time taking pain meds and applying Ambesol.
During week 5 my great uncle passed away.  I did ask for time off so that I could drive my Grandparent's to the funeral.
I drove my brother to Sioux Falls for an evaluation in the second week of April.  I had to take a day off for that too, and in doing so got an extended vacation for Easter.  This turned out to be a much needed break that fell in between my two residencies.
I spent the first week in May in Fargo doing clean up week with Sheldon.  Having time off for clean up week is a must every year no matter the career, and it was a condition written into the contract for my second residency.  🙂
In the second to the last week here, our hot water heater went out at the Roscoe house, so we had to get a new one, and spent part of the weekend bailing water.
Last weekend I took part in a Craft and Vendor Fair at the Jamestown Civic Arena, literally three blocks from my apartment.  On the way there my van started acting up, and after talking to my mechanic we've determined that most likely the fuel pump is going out.  I spent the weekend trying to find a ride home so that I can get my brother to his appointment in Sioux Falls on Tuesday.  Thankfully, my art mentor Bonnie (who has been an angel and savior during my time here) has volunteered her spare van.  I picked it up tonight and I'll be able to get back home.
So those were the ups and downs, mostly downs, that happened in my personal life during my time here.  I did get a lot accomplished though, when I wasn't in pain and when my vehicles were working.
I have almost finished up all of my paintings for my animals book that will be published this summer, and am waiting to hear if I received a grant to cover the cost of printing the initial run.
I applied for and was accepted into a half dozen or so new art festivals this summer, and will now be traveling into North Dakota and Minnesota, along with my favorite South Dakota shows.
I taught a few adult classes for the Arts Center, and made some great connections with artists and art enthusiasts here in Jamestown.
I took up piano again after a 20 year hiatus, and found out I might actually not suck at it.
I started an eBay store after being inspired by the junkin' podcasts I've been listening to.
I crawled out my window and onto the roof to photograph art so I could make prints.  (The lighting was best up there…)
I talked with our gallery director about having a show when I come back in the fall.  We will feature some of the 'Jamestown and surrounding area' paintings that I've worked on while I've been here.
I got accepted into the Artist Residency program at Whiskeytown National Monument in California!  More on that to come…..
I bonded with the children at the school, and cherished being 'their artist.'  They make you feel like a real celebrity!
I completed a few commissioned works as well.
I'm not ready to go home (I'm never ready to go home), but I know that I have an exciting schedule coming up and I'm looking forward to this summer's festivals.  I'm also planning to teach a 'how to make video games' summer camp to my little cousins…. I better brush up on my coding (or lack of) skills!
To wrap up my time here and to take full advantage of the once in a lifetime amenities offered to me at The Arts Center, Sheldon decided to join me at the gallery Friday night for an impromptu keyboard and guitar jam session!  The Gallery at The Arts Center is currently showing a display of around 30 guitars that were built out of found objects by a North Dakota man, Beau Theige.  The exhibit encourages musicians to play the instruments, and play them we did!  We thoroughly enjoyed jamming for more than three hours, late into the night, with Sheldon on the guitars and I on the keyboard we found at junk week.  I would encourage EVERYONE who is traveling through Jamestown to check out this exhibit, and future exhibits at The Arts Center as well!
Thanks Jamestown…. hope to see you again in the fall.