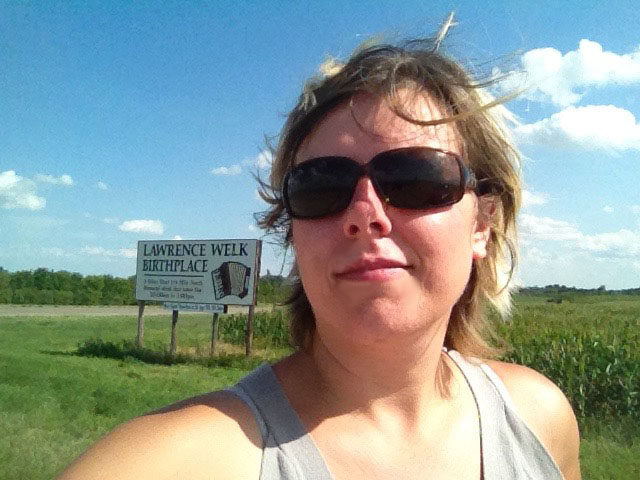 My sketching spot today was at the Lawrence Welk Homestead in Strasburg, ND.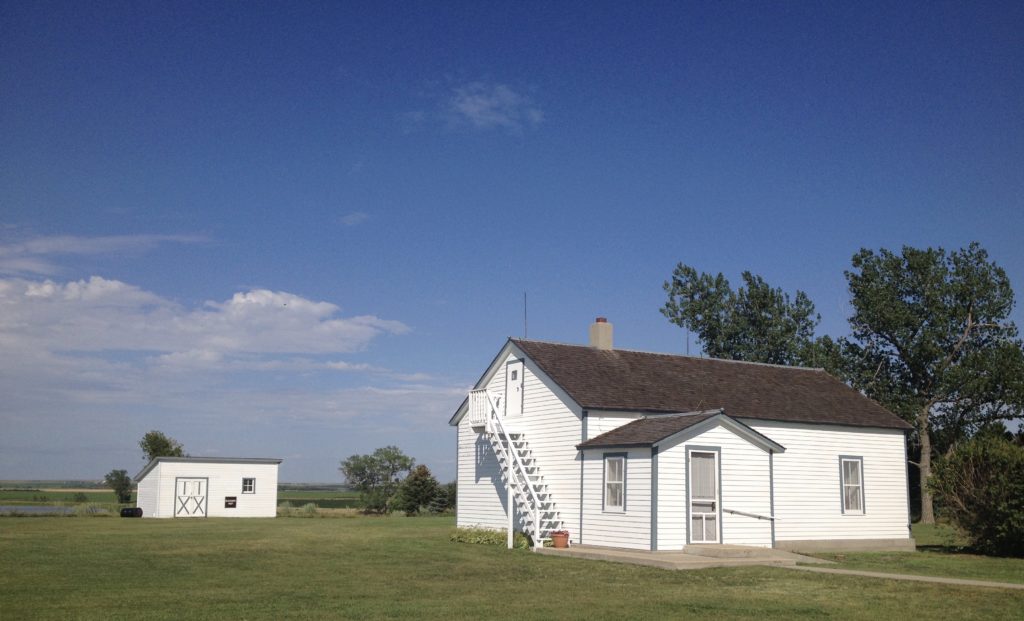 I have passed by the brown 'Historic Site' signs many times traveling between my home and Bismarck, but I've never taken the two mile gravel road that leads to the homestead. It's always been on my list of detours to take 'one day.'
A few years ago, the homestead became an official State Historic Site, and last summer the site manager called me to ask if I would come out to teach a watercolor class sometime this year. We originally set the date for August 12, however, I rescheduled for July 29 a few days later. This day would also be the 'grand opening' of the site….. though the homestead has been open to the public for years, the state has been working hard to restore buildings, add exhibits, and book a variety of activities that would bring visitors there.
I headed to North Dakota on Friday night to scope out the grounds and get some sketching in before the workshop. The heat was sweltering and I was eaten alive by horseflies, but I still managed to get three nice paintings done that evening. I spent the night at Don's Motel in Linton, a cozy and clean mom-n-pop operation that was home to 14,000 friendly cats (the official count was 7.) I was given the 'Lawrence Welk discount' on an already affordable room rate when I told Don that I was teaching a class at the Homestead, and he called ahead to the only Grill in town that was open until 9 p.m. to let them know that I was on my way at 8:55.
---
---
Sometime life doesn't go exactly as we planned…..
When I arrived at the Homestead this morning, I was informed that there had been a mix up.  All of the marketing materials that had been sent out about the class had been dated with our original painting date of August 12, not July 29…  Luckily, the site manager had still managed to round up 8 participants; two were no-shows, but three more students jumped in at the start of class for a total of 9 painters in all.
Most of my students today were beginners at watercolor painting, but they were fast learners and wound up with some lovely pieces by the end of the afternoon.  We focused on a few basic techniques like wet into wet, dry brushing, spattering, and 'regular' painting (I'm sure there's probably a more technical term that I've forgotten long ago.)  We also talked about brush care and the proper way to get our paints ready to use.  The class was encouraged to take in their surroundings and really study their subject matter before painting.  Most of the adults and a few of the children chose to paint landscapes or structures around the Homestead, but each student was free to paint whatever they desired.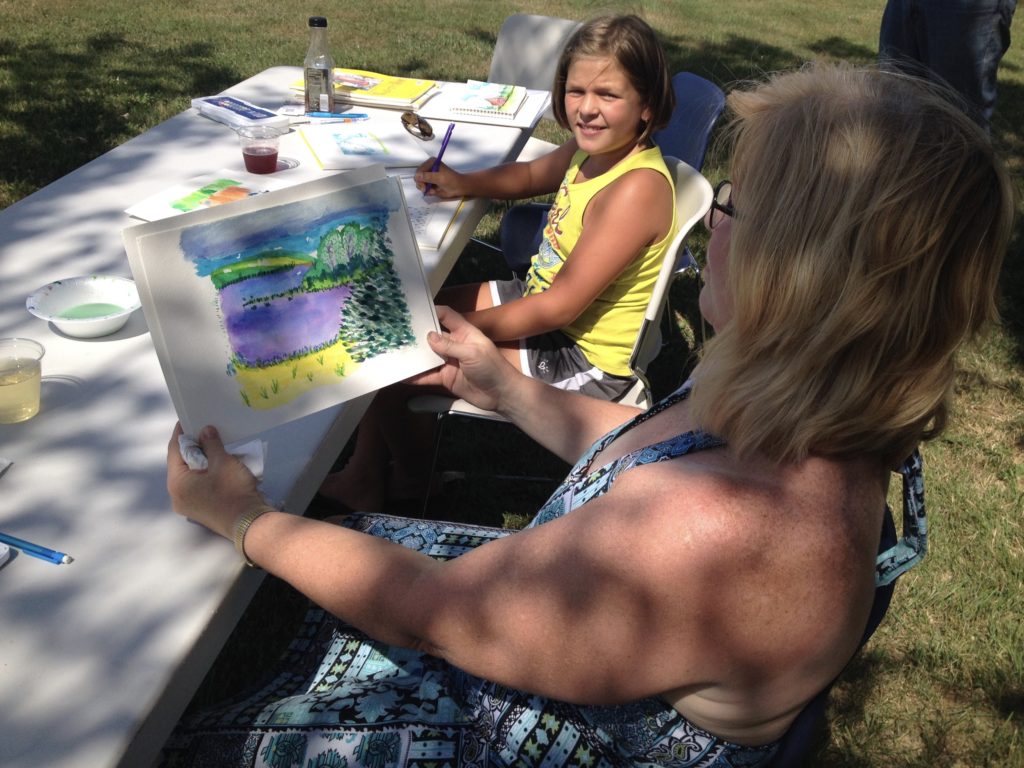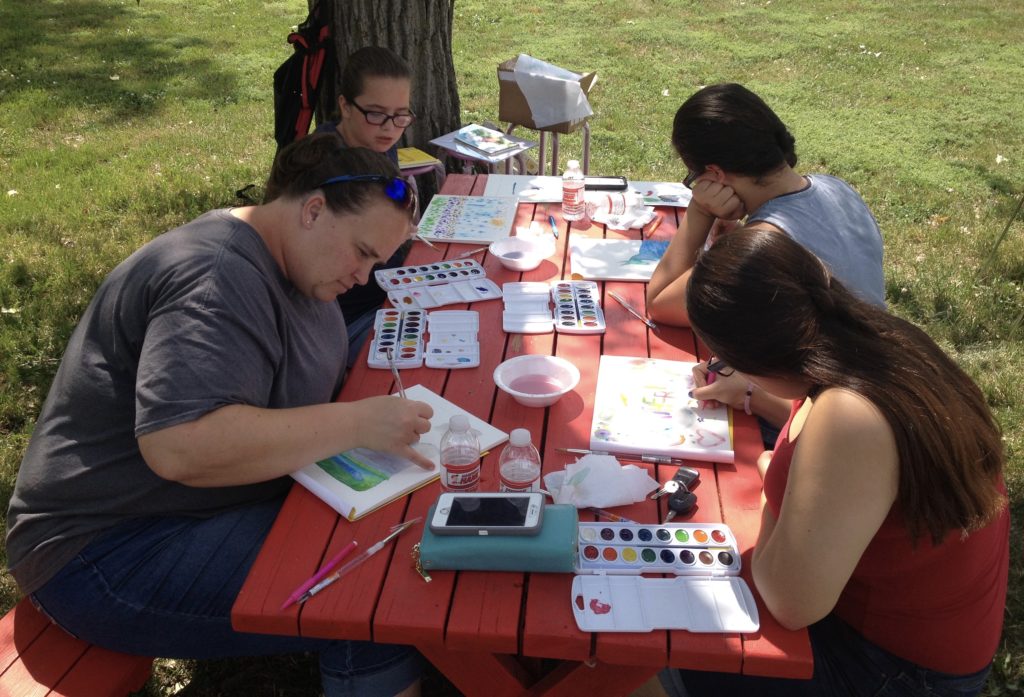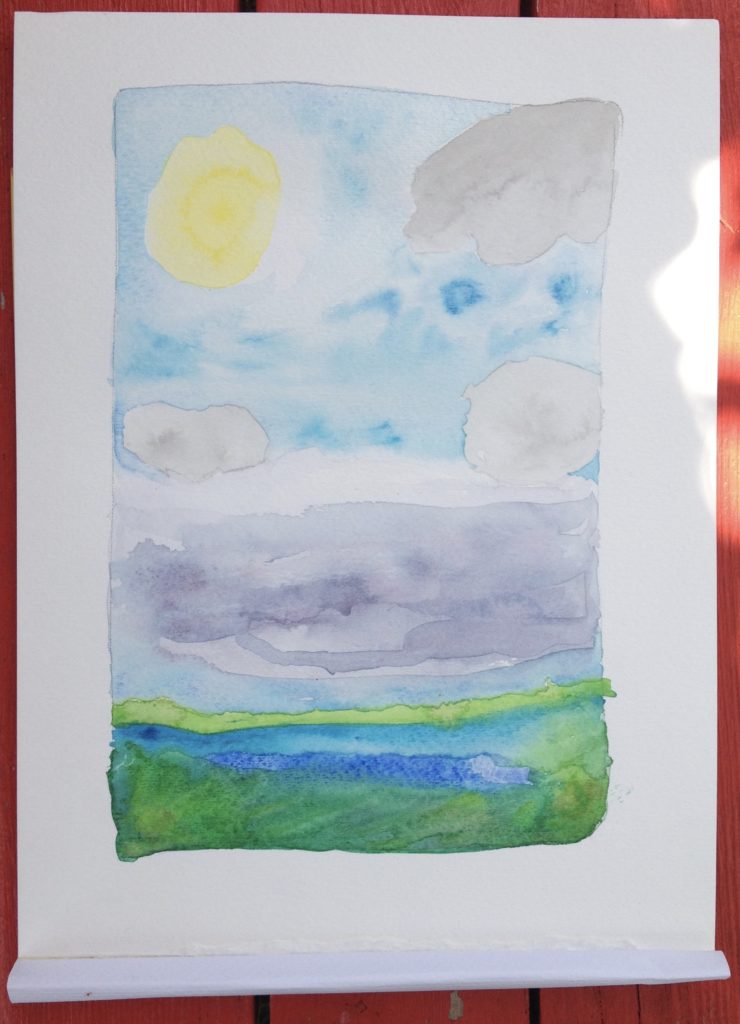 Class wrapped up at 4 p.m., but not before we all enjoyed homemade kuchen; a German dessert that is well known in this part of the midwest (but not so much in other parts of the U.S.)  If you're traveling through North or South Dakota, ask at any small town cafe and there's a good chance you'll be able to try a slice there.
Thank you to all of the students who attended my class, and a big thanks to the North Dakota State Historical Society and the Lawrence Welk Homestead for having me out for the afternoon.  I hope to return soon!
---
---
And now, for my paintings from Friday evening……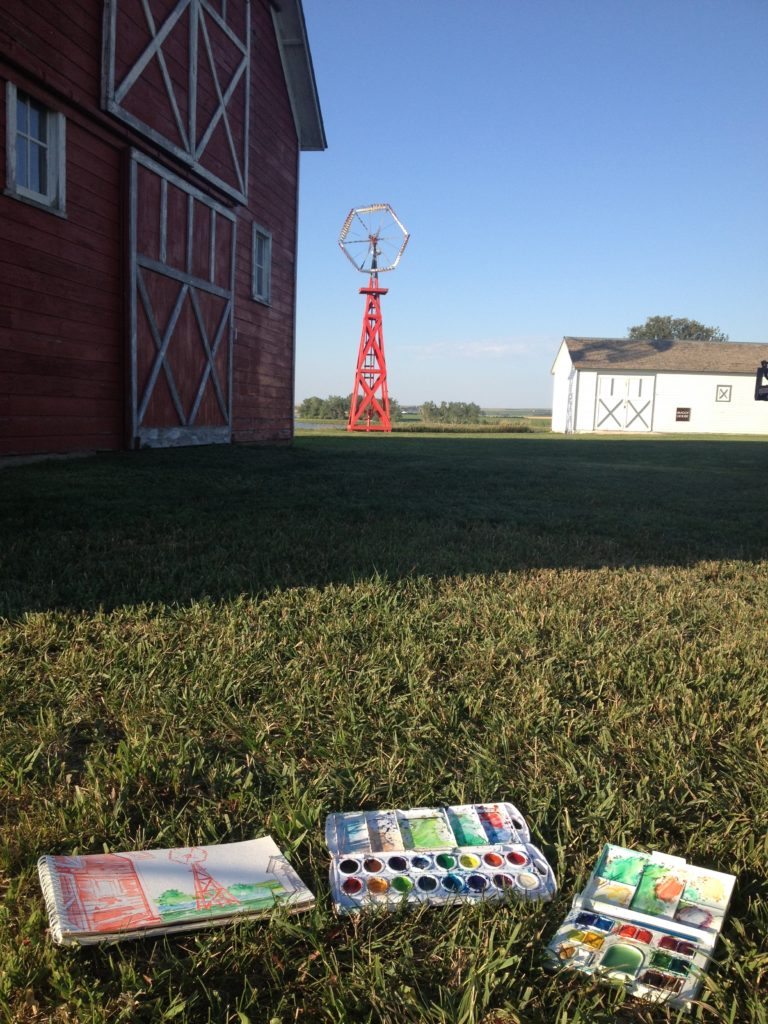 My favorite thing to sketch was the barn.
My three watercolor paintings are available for sale in the gift shop at the Homestead.  Stop by and check them out in person, and be sure to take a tour of the site.  The Homestead is open weekdays in the summer from 10 a.m. – 5 p.m.
http://history.nd.gov/historicsites/welk/