I am excited to participate in my first Artist's Challenge of this year!  A group of fellow artists from around the world will be creating 30 paintings in 30 days, starting January 1, 2017.  I will add my daily painting to this page, because it only seems fair that ya'll get to see what I'm working on.
Day One's painting turned out better than expected for starting cold.  Behold, "Lucy and Ringo."
Day Two's painting is going to be a hard one to top.
"The Homeless Woman Who Lives on the Train"
Day 3 – "Goldfishies" – These guys are usually a hit at the festivals, so you'll probably see more of them before the 30 day challenge has ended…..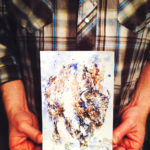 Day 4:  Sheldon and I are preparing for a camping trip to Yellowstone this summer, so I guess I felt inspired to paint a bison in anticipation for this summer's trip.  It's only about 7 months away!
Oddly, I used the same colors in this painting that are found in the shirt that Sheldon wore to work this morning.  I didn't see him until he came home this evening, but we must have been feeling the same brown and blue color vibes when we woke up today…
Day 5:  Woah, yesterday's bison was a hit!  A few friends of mine have asked me to paint a triptych of bison, so here we go…. day 5 of the challenge, day 2 of painting bison!  Or is it a buffalo??
Day 6: Ugh, I missed not one but TWO opportunities to paint in nontraditional locations today.  I traded plein air at the college AND at the tire store for another Bison and a regular day at home.
This decision was made in haste, and next time I will take the opportunity to experience painting out in the world.  On the bright side, I couldn't be happier with how these Bison are coming out so far!
Day 7:  Wow, are we really one week into the 30 day challenge already?  This is going to fly by!
I am having so much fun with this challenge, that I've decided to participate in another one.  Read about it on today's blog post – Another New Sketch, Another Challenge for 2017.
Day 8:  I spent the night in Bismarck, ND, so I painted this little rest area on the outskirts of town from a photograph that I snapped along my drive.
Day 11 – Let's try a landscape for a change!  It's everyone's favorite house… along Highway 12.
Day 12 – Another Goldfish… the one on the left looks a little drunk to me.
Day 13 – A friend of mine is vacationing in Texas, and he shared a photo of the dance hall in Gruene a few days ago.  I knew I wanted to paint it!  I used only 5 colors for this piece – yellow and orange, blue, bluish violet, and green.  I also used a bit of Payne's Grey, but that is more of a toner than a color……..
Day 14 – the colors used in the Gruene Hall piece yesterday…..
Day 15:  Sheldon and I took in MONSTER JAM at the Fargodome.  What a fun outing!
Day 17:  I was traveling all day today, so I just finished up this painting that I started on location last year of the 'fleet day' in San Francisco.