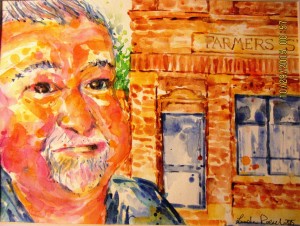 Check out what others have said about my art!
My Dad, George Mohr, turned 65 this October, and thanks to local artist Linda Roesch, our family now has its very first genuine heirloom. She painted this picture for me to give to him, and it truly shows more of him–more of who he really is–than any picture he's ever taken. My first thought upon seeing this painting was that someday (a long time from now) my Dad will be in heaven and Josie and I will have this to look at. 
Perhaps because Linda knows him, she was able to capture him so well, but I think she's just that good (with paint and with people) and if you've seen her work, you'll agree. His 2yr old granddaughter recognized him immediately. She kissed and talked to the painting every day we had it and even cried when we boxed it up. Dad got a little teary when he thanked me, telling me that he's "wanted a Linda Roesch painting for so long," and of course never imagined he'd ever be in one. 
So thanks, Linda, for showing my Dad and his family for generations to come what he really looks like heart emoticon I hope many others take advantage of having such enormous talent nearby and freeze the people, pets and things they love in time "…that the next generation might know them, the children yet unborn, and arise and tell them to their children…" (Psalm 78:6) so to speak.
-Megan Mohr Smith
---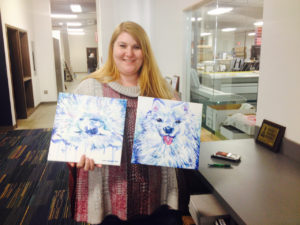 After my Tykaroo passed about 6 weeks ago, I had an amazing artist paint a couple portraits of him for me. They turned out better than I could have ever hoped. They're a wonderful way for me to remember the spirit of my wonderfully silly Tykaroo. I've hung one over where his crate used to be, where Hurley's now is, and the other over Hemi's crate. May he watch over his brothers. Thank you, Linda Roesch for doing such a superb job capturing the spirit and personality of my "firstborn" furbaby. This means the world to me and I am in love with them.
– Ariel Richter
---